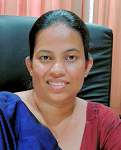 It is with great pleasure that I receive you to the Web Site of the Department of Co-operative Development of the Central Province which is actively engaged for the progress of the Central Province Co-operative Movement at a time when all the work of Public Institutions are geared to become the best provincial council of Sri Lanka.
We are proud to remind that the Co-operative Movement of Sri Lanka was born in the Central Province. That was with the inauguration of Co-operative Credit and Thrift Society of Dumbara Teldeniya of the Central Province in the year 1906. The first Co-operative Conference of Sri Lanka was held at the historic Kings Pavilion of Kandy in 1914 headed by the Governor of Sri Lanka, Robert Chalmers. In addition, I wish to remind that the first Rural Bank of Sri Lanka - Menikhinna Rural Peoples Bank was inaugurated in 1964 with the District of Kandy as its centre. The Co-operative Movement started in this manner was able to march forward passing various stages and today it has established itself as a monumental land mark in the Sri Lankan economy. In the year 1911 in order to create a legal administrative structure in the Co-operative Movement, Credit Societies Ordinance No. 07 of 1911 was enacted and it was brought under government supervision and now after 105 years of its enactment, it is significant that the Co-operative Development Department of the Central Province has taken action to create a Web Site through which it is possible to give all information about the Co-operative Movement to the Co-operative Community.
About 8 lacks of Co-operative members of the Central Province and 1850 registered Co-operative Societies, other state and private institutions and the general public in common, can now obtain all information about the services rendered by the Department of Co-operatives the zones from which they could be obtained and details about District Offices and submission of documents and reports to get an expeditions service using this website.
In accomplishing this task the advice and guidance provided and various helps and encouragement given by Hon. Niluka Ekanayake, Governor of the Central Province and Hon. Sarath Ekanayake, Chief Minister and the Minister in charge of the subject of Co-operatives and the Secretary, Ministry of Co-operatives and the Secretary , Central Province are acknowledged with grateful thanks.
Accordingly, Co-operation and assistance of all of you will be requested to accomplish the task of providing you with latest information about the Department and connected institutions using the modern information technology.

N. S. Senadheera
Commissioner of Co-operative Development of the
Central Province and Registrar of Co-operative Societies